Already used our online configurator? Fill in the input reported below with the configuration code that you can find on the quotation and click "PROCEED".
The products listed on the quotation will be automatically added to the shopping cart.
If you wish to change the quantities or add new devices to the shopping cart, you can do it before submitting the order.
Touch relay
Ezon Smart Home module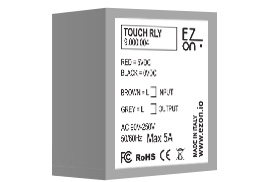 Product code:
9.000.004
Sizes:
18 x 39 x 29mm
Input number:
1 touch
Supply voltage:
5VDC (use code 9.000.033)
Warranty:
2 years
ezon.io Touch Relay can be used as an alternative to ezon.io Switch Relay.
Placed on the rear of a blind plug, is able to recognize a continuous pressure or a quick tap, offering a touch control solution.
Could be used to control lamps and sockets with its own integrated relay. The module is also able to dim the Illunaluce x ezon.io lamps.
Like all the ezon.io modules, is completely configurable and programmable.
HOW TO ASSEMBLE THE TOUCH RELAY MODULE

The ezon.io system can also be managed and programmed through the ezon.io APP, which can be downloaded for free from the APP Store and Google Play.